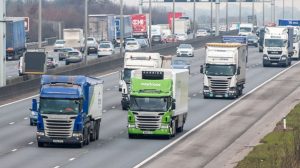 Lorry drivers are being offered a £1,000 "golden hello" by major retailers struggling to fill supermarket shelves.
It's reported supermarket chain Tesco has been enticing HGV drivers with a £1k bonus.
Other retailers are said to be following suit.
However, it's feared smaller haulage firms will suffer as their drivers are lured away.
Britain has an estimated shortfall of 100,000 qualified lorry drivers.
Numbers have been depleted by both Brexit and the Covid-19 pandemic.
More than 15,000 non-UK drivers are thought to have returned home and others have been unable to train.
The current "pingdemic" has seen thousands of drivers in self-isolation.
A Road Haulage Association (RHA) spokesman said:
"Some of our members have told us that they've had to pay sweeteners to get drivers to work for them.
"We've heard £1,000 before, but I wouldn't say that's right across the board.
"But drivers' rates are certainly increasing in the sector as the vacancies grow."
Recently, the RHA said the shortage of lorry drivers in Britain had reached "catastrophic proportions."
The RHA has called on the Government to act quickly to help resolve the problem.
The RHA claims consumer costs will rise as freight rates become unsustainable.
Richard Burnett, RHA chief executive, said:
"The upturn in the economy since Covid-19 is increasing demand across supply chains and the reopening of non-essential retail outlets and parts of the hospitality sector is making the situation even worse.
"The pandemic also resulted in the loss of about 12 months of driver training and testing.
The long-term ineffectiveness of apprenticeships for lorry drivers and the general hostility from authorities and the government is also unhelpful for recruiting and retaining drivers.
"We need the Government to act and address the driver shortage for the industry and the drivers.
"While we welcome the increase in HGV apprenticeship funding to £7,000, this barely scratches the surface of the problem."