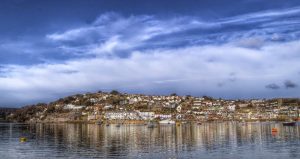 A multi-millionaire's seaside holiday town is to stop second home buyers snapping up new-build homes.
Salcombe in Devon is called Chelsea-on-Sea.
Its magnificent estuary – a haven for mega-yachts and boats – and its stunning properties have made it a must-go destination for the rich and famous.
Over the last ten years property prices have soared.
A five-bedroomed semi in the town is currently for sale at £2 million.
The average price of a home is £750,000 – and the average wage is below the national level.
Now the local South Hams District Council has decided that all new-build homes in the town can only be bought as a "primary residence".
And they must stay the same on re-sale.
The decision adds weight to a previous rule that new-build homes should go to people with a connection to the area.
However, the council admitted in a report that stipulation could be "lost or overlooked" when the house was resold a few years later.
More than 55% of properties in Salcombe are classed as second homes.
The council said:
"This policy is as a result of impact upon the local housing market of second or holiday homes.
"This occupancy restriction will therefore require the imposition of a legal agreement.
"New unrestricted market homes will not be supported at any time.
"The consequence of the high value placed on market housing which attracts primarily second home owners is the lack of supply of properties for younger working people and families.
"These families move away from the parish.
"This policy will support the housing needs of local people and bring greater balance and mixture to the local housing market.
"It will create new opportunities for people to live and work here and strengthen the community and local economy."