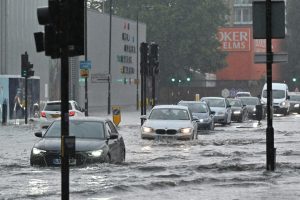 A month's worth of rain in a Biblical deluge turned London's roads to rivers within hours.
Tube stations were forced to close, and two hospitals urged patients to go elsewhere as the rains pummelled the city.
Motorists abandoned their vehicles as they were swept along by the raging waters.
The fire brigade said it had taken about 300 calls – mostly about flooded basements or roads.
People have been advised not to travel in the hazardous conditions.
The Met Office said 47ml of rain usually falls during July.
However, parts of London had 51ml of rain in just three hours.
More rain is expected with the prospect of thunderstorms.
🚨🇬🇧Heavy floods hits #London. pic.twitter.com/nRcxsXvzEs

— Terror Alarm (@Terror_Alarm) July 26, 2021