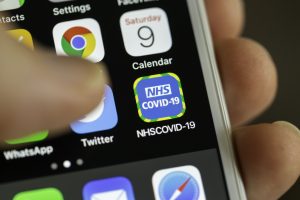 The "pingdemic" is crippling Britain's economic recovery as millions of workers self-isolate.
Analysts reckon the ever-growing number of people being hit by the NHS Trace and Test app will cost £5 billion.
In the last week more than 615,000 people have been "pinged".
Many work in retail, delivering goods, and driving public transport vehicles.
Supermarket shelves are growing ever emptier as deliveries dry up.
Duncan Brock, a director at the Chartered Institute of Purchasing and Supply, said:
"Shortages of labour availability were made worse as many staff self-isolated, took other job opportunities or caught up on annual leave entitlements."
The Telegraph reports an aggregate 7.6 million people – about a quarter of the entire workforce – could be pinged over the next four weeks.
More than half of those would be unable to work from home.
Karl Thompson, a CEBR economist said:
"We've assumed that Freedom Day will cause the pace of infection to continue at the rate seen in recent weeks.
"Taking this into account, our calculated GDP impact is nearly £5 billion over the next month, equivalent to a loss of about 2.5 per cent of monthly GDP."