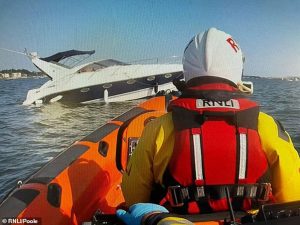 Picture: RNLI Poole
Two people have been rescued from a sinking £150,00 yacht minutes after it set out to sea.
The couple were taking Harley – a 42 feet long Fairline motor cruiser – to a yacht club when it started taking on water.
They abandoned the vessel as Harley was sinking quickly in Poole Harbour, Dorset.
The Poole RNLI rescued the couple and took them ashore.
The lifeboat returned to the sinking Harley to isolate the fuel – ensuring it did pollute the harbour.
However, they were unable to keep the boat afloat.
By high tide Harley was barely visible above the water.
She is still there.
An RLNI spokesman said:
"The lifeboat was swiftly on scene, they discovered a boat at anchor, with its stern down.
"The lifeboat checked that the two casualties were okay and swiftly transferred them off the stricken vessel and took them ashore to Parkstone Yacht Club as there was a real concern that the vessel was going to go down.
"Once the casualties were safely ashore, the lifeboat returned to their vessel and isolated the fuel, the vessel was too far in the water and taking on water, to doing anything further.
"The lifeboat informed the coastguard of the vessel's perilous predicament, and the coastguard will liaise with Harbour Control to decide on any further appropriate action."
A spokesman for the Poole Harbour Master's office said the Harley would be seized to protect the wellbeing of other seafarers.