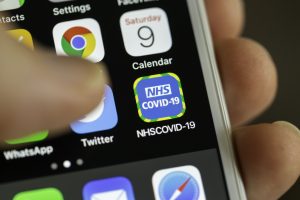 A record 618,903 people in England and Wales have been "pinged" in a week by the NHS Covid-19 app.
The warnings went to users informing them they had been in contact with someone who had tested positive for coronavirus in the week to July 14th.
People who receive the alert should self-isolate.
The figure is up nearly 100,000 for the previous recorded week.
It is the first set of figures since so-called "Freedom Day" on July 19th when lockdown restrictions were relaxed.
The "pingdemic" has seen millions of people not being at work.
Many people have uninstalled the app from their mobile devices.
Despite seven in 10 adults being doubled jabbed everyone must isolate if told to by NHS Test and Trace.