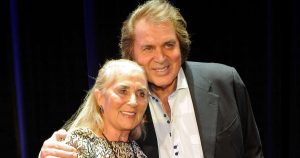 Singer Englebert Humperdinck has spoken for the first time about the death of his wife Patricia.
The 85-year-old crooner was live on ITV's Good Morning Britain.
He married Patricia in 1964 after meeting in a Leicester night club.
The couple have four children – Scott, Jason, Louise and Bradley.
Patricia died in Los Angeles in February after contracting Covid-19.
She was also suffering from Alzheimer's.
When asked how he was coping, Humperdinck said:
"Not bad, not bad.
"You know the whole family has been in limbo lately because we finally brought her home.
"Since February we've been waiting for the quarantine to go away so we can give her a good final send off in our home in Leicester.
"She's finally home now so we're grateful for that.
"I don't know how it [her death] is going to affect me.
"I have no idea.
"It's affected me pretty bad so far.
"And I know that I'm going to go out on tour and sing sensitive songs and things like that, but that's my job and I know that's what my wife would want me to do.
"It's quite difficult being a performer and being out on stage and singing sensitive lyrics – and each lyric can touch your heart in different ways – but it doesn't matter, it's my job.
"I'm a thespian of song and I've got to go out there and do the best that I can.
"My fans have been absolutely fantastic.
"They've all been so supportive during this time in my life, and I love them all."