Woman "stole diamonds worth £4.2 million by swapping them for pebbles", court told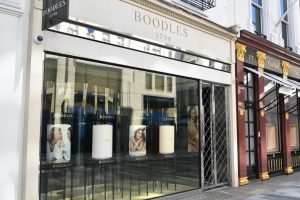 A woman allegedly stole diamonds worth £4.2 million from a London jeweller by posing as a gems' expert.
Lulu Lakatos is said to have examined the seven diamonds at Boodles in Mayfair.
The gems were then locked away in the vault awaiting payment.
However, Southwark Crown Court was told when the vault was opened the gems had been swapped for pebbles.
Philip Stott, prosecuting, said:
"The diamonds had been stolen by the defendant by sleight of hand.
"The conspiracy in which she is alleged to have played an integral and central part was one of the highest possible sophistication, planning, risk and reward."
Romanian born Lakatos, 60, denies conspiracy to steal on or before 10 March 2016.
The court was told Boodles chairman Nicholas Wainwright, 73, was introduced to an Israeli man called "Simon Glas".
He said he was interested in buying high-value diamonds as an investment.
The pair met in Monaco Mr Wainwright was introduced to Glas's supposed business partner – a Russian called "Alexander".
The men agreed the sale of seven high-value diamonds.
Lakatos – who lives in France – was allegedly the woman who posed as a jewellery valuer, "Anna".
She was sent to visit Boodles to examine the stones.
"Anna" was taken by Mr Wainwright into the jewellers' basement meeting room.
Boodles own gem expert Emma Barton joined them.
The court heard Lakatos examined and weighed the diamonds.
She then wrapped them individually in pre-cut tissue paper.
They were placed inside opaque boxes, which were put into a zipped purse-like bag.
The bag was padlocked.
It is alleged that Lakatos then placed the locked purse inside her own handbag when Mr Wainwright went upstairs to take a phone call from the purported Russian buyer "Alexander".
Ms Barton told her to put the bag back on the table.
Mr Stott said:
"It seems what happened was it was swapped for an identical locked bag and that duplicate bag was placed back on the table."
The trial continues.