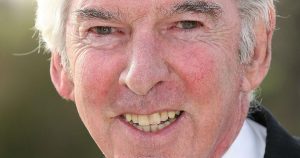 Comedian Tom O'Connor has died aged 81. He had Parkinson's for the last ten years.
The former maths teacher rose to fame after winning Opportunity Knocks three times.
He hosted shows including Name That Tune, Crosswits and The Tom O'Connor Show.
His clean-cut style of humour made him a family favourite.
His son Steve Finan O'Connor said:
"He was a unique comedian who was light years ahead of political correctness.
"Tom was famously known for a brand of humour that was 100% clean and always totally family friendly."
O'Connor was born in Liverpool and became a maths teacher and assistant headteacher.
However, he loved show business.
He started out as a singer before adding comedy to his routine.
He taught by day and worked the clubs at night.
Recounting his years, O'Connor had said:
"When I grew up as a kid in wartime Merseyside, I never dreamed I'd have a career that started as a schoolteacher, went to folk singer, then country and western singer, stand-up talker and TV presenter. I've been lucky."