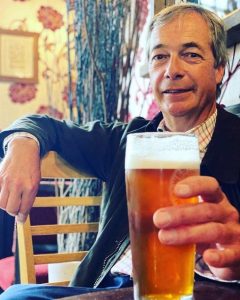 Nigel Farage has been brought in to help save the floundering GB News channel.
The former Brexit Party leader will have his own one-hour show starting this week.
He will be on-air from 19.00.
The broadcaster hopes Farage will turnaround a disastrous start.
Already plagued with technical issues, further setbacks came when presenter Guto Harri "took the knee" live.
He was taken off-air.
His actions sent GB News viewing figures into a downward spiral.
It is reported some shows had no viewers at all.
Mr Farage said:
"I will not be taking the knee on this show.
"We'll take on the tough issues on the day and interview people who really understand their subject, not just some minister who is there to spout the party line.
"I want your opinions too."
Mr Farage, 57, would be encouraging people to "look at and think about issues in different ways" and "covering stories that everybody else wants to ignore".