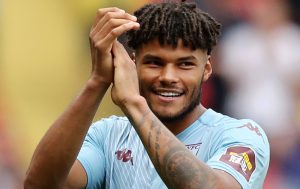 England defender Tyrone Mings has criticised Home Secretary Priti Patel for her condemnation of racist abuse against his teammates – after earlier she said taking-the-knee was "gesture politics".
People have slammed the racist social media hatred faced by England players – in particular Marcus Rashford, Jadon Sancho and Bukayo Saka – following the Euro 2020 final defeat.
All three players missed penalties in the shoot-out.
Ms Patel was quick to criticise the "vile" racist abuse used on social media.
She tweeted: "It has no place in our country and I back the police to hold those responsible accountable."
However, Mings was quick to point out Ms Patel had "stoke(d) the fire".
She had previously refused to criticise fans who booed England for taking-the-knee.
He said: "You don't get to stoke the fire at the beginning of the tournament by labelling our anti-racism message as 'Gesture Politics' & then pretend to be disgusted when the very thing we're campaigning against, happens."
Ms Patel declined to comment on his tweet.