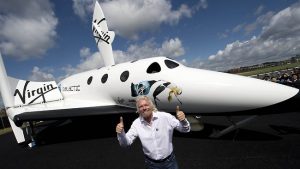 Sir Richard Branson has become first person to go into space in his own "rocket".
He beat rival billionaire Jeff Bezos by just days.
Sir Richard said his journey was the "dawn of a new space age".
The businessman touched down safely in New Mexico after the Virgin Galactic took him and his three passengers beyond the reach of earth's gravity.
Sir Richard hopes to make space tourism a reality.
He said: "What a day, what a day.
"I think like most kids I have dreamt of this moment since I was a kid, and honestly nothing can prepare you for the view of Earth from space.
"Suddenly you're looking down and seeing people looking up at you – hang on, what are you doing down there?
"I'm just taking it all in, it's unreal…
"My mission was to turn the dream of space travel into a reality for my grandchildren, for your grandchildren, for many people who are alive today, for everybody.
"And having flown to space, I have seen how Virgin Galactic is the space line for Earth.
"We're here to make space accessible to all, and we want to turn the next generation of dreamers into the astronauts of today and tomorrow."