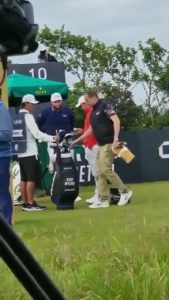 Champion golfer Rory McIlroy could only look on with bemusement as a fan nonchalantly lifted a club from the player's bag and took a few practise swings.
McIlroy was playing in a tournament at The Renaissance Club in Berwick when the man stepped in.
As McIlroy chats to his caddy the spectator coolly walks up and lifts the club.
He then cheekily takes a few swings.
A witness told The Scotsman newspaper:
"He was standing at the back of the tee and went over to Rory's bag, took out [a club] and had a couple of swings with it.
"When someone told him that he couldn't do that, he replied by saying 'why not?'.
"At that point, the security people assigned to following the group moved in and took him away."
Local golf fan David Wilson added:
"He was quickly dealt with.
"The players laughed it off, saying they knew he wasn't a golfer when they saw his grip."
Rory McIlroy was part of a bizarre incident ahead of his second round at the Scottish Open, where a spectator came to the tee and took a club from his golf bag. 😳⛳️ pic.twitter.com/FUhNiE342Z

— Sky Sports News (@SkySportsNews) July 9, 2021
Twitter Sky News