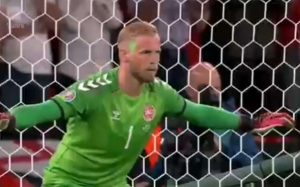 UEFA has started disciplinary proceedings against England after their semi-final win against Denmark.
England won 2-1 at Wembley but the game – which went to extra-time – was fraught with controversy.
Someone in the 67,000 strong crowd shone a green laser pen at Denmark's goalkeeper Kasper Schmeichel as England captain Harry Kane stepped up to take a penalty.
Schmeichel saved the spot kick but an alert Kane slotted home the rebound.
UEFA cited three charges against England and the supporters:
The use of the laser pen
A disturbance as national anthems were sung
Lighting fireworks in the crowd.
A UEFA spokesperson said:
"The case will be dealt with by the UEFA Control, Ethics and Disciplinary Body (CEDB) in due course.
Meanwhile, England play Italy in the final on Sunday at Wembley.