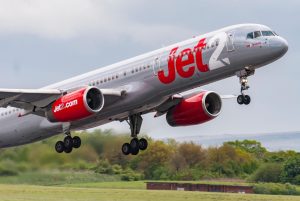 Jet2 made a £373.8 million loss last year due to the Covid-19 pandemic.
The package holiday firm called it "a period of unparalleled operational and financial challenges".
The company flew just 1.3 passengers as the travel restrictions hit hard.
That's down 91 per cent on the 14.6 million it flew the year before.
Jet2 only started flying again to green list countries at the beginning of July.
And it will not take-off to amber list destinations until July 19th – "Freedom Day" – when it is expected travellers who have been double jabbed can miss having to quarantine.
However, despite the losses, Jet2 said that its liquidity remained strong.
The company has managed to raise £1bn of funding over the last year.
Neil Shah, director of Research Edison Group:
"With the past year being one of the hardest for the airline industry in the recent future, it is no wonder that Jet2 has reported a mixed set of results today.
"With the majority of the UK anticipating positive news regarding foreign travel in the near future, Jet2, like many other airlines, will be looking to capitalise.
"However, it still looks that there may be some uncertainty regarding government restrictions, and a complete return to normality could be some way away."