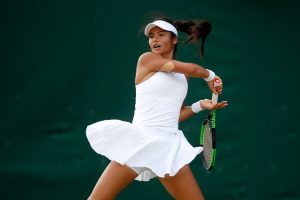 Tennis teenage sensation Emma Raducanu has explained how she was forced to retire from her quarter-final match at Wimbledon.
Ms Raducanu, 18, left Court No I holding her stomach, feeling dizzy and struggling for breath.
She was behind 4-6 0-3 to Ajla Tomlijanovic when she called on her trainer and a medical team.
In a post she said:
"Hi guys. I wanted to let everyone know that I am feeling much better this morning.
"First up, I want to congratulate Ajla on an incredible performance and I'm sorry our match ended the way it did.
"I was playing the best tennis of my life in front of an amazing crowd this week and I think the whole experience caught up with me.
"At the end of the first set, after some super intense rallies, I started to breathe heavily and felt dizzy.
"The medical team advised me not to continue and although it felt like the hardest thing in the world not to be able to finish my Wimbledon on the court, I want to thank the people who have cheered me on every single match.
"I wanted to win so badly for you.
"I also want to thank the All England Club, my team, the Lawn Tennis Association, my parents and friends.
"Last night will go a long way to helping me learn what it takes to perform at the top."