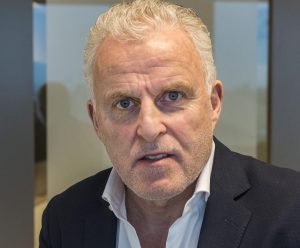 A leading Dutch crime reporter is fighting for his life after being shot five times on an Amsterdam street.
Peter R. de Vries, 64, was shot in broad daylight.
Eye witnesses said he was hit five times – once in the head – after he left a television studio.
Mr de Vries had been on a talk show.
Three people have been arrested, including the suspected gunman.
Prime Minister Mark Rutte told a press conference in The Hague the attack was "shocking and inconceivable".
He added: "It's an attack on a courageous journalist and by extension an attack on the freedom of the press, which is so essential for our democracy and rule of law."
The newspaper Het Parool quoted a resident as saying she heard five shots and went out to see what had happened.
She saw Mr de Vries lying on the ground with a lot of blood on his face.
He was unable to speak but was still alive.
She held his hand as they waited for emergency services
Mr De Vries is currently working on a high-profile murder case and drug trafficking trial.
The case involves Ridouan Taghi, an alleged drug trafficker.
Taghi had been listed among Europe's most-wanted fugitives by Europol
He has been described as "one of the world's most dangerous and wanted men".
Security around the case is extra-tight due to previous attacks on people related to the crown witness.
The brother of a key witness – known only as Nabil B – was shot dead in 2018, and his lawyer gunned down in the street in 2019.
Oscar Hammerstein, a former lawyer for Nabil B said:
"I don't doubt for a second who is behind it.
"Taghi has said that anyone who interferes with his business will be shot.
"First it was the brother of the key witness, then a lawyer.
"Now it is about a man who walked out without armour."
Justice Minister Ferdinand Grapperhaus said:
"This is a black day, not only for the people close to Peter R. de Vries, but also for the freedom of the press.
"In the Netherlands, we want journalists to be able to conduct any investigation which must be carried out in complete freedom.
"This freedom has been seriously infringed."
Amsterdam mayor Ms Halsema praised the crime reporter.
He said: "Peter R De Vries is a national hero for all of us, a rare and courageous journalist.
"He stands up for people in need, for the parents of a murdered child or people who have been unjustly convicted.
"He keeps investigators on their toes, and the rule of law on the right tracks.
"He is far from done."