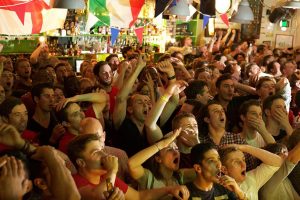 Britons are expected to drink ten million pints of beer today as England play Denmark in the Euro 2020 semi-final.
The British Beer and Pub Association (BBPA) expects bigger crowds in pubs than England's quarter-final match against Ukraine.
However, the BBPA predicts today's beer sales will still be 1.7 fewer pints – a lost revenue of £6.5 million – than would be sold due to Covid-19 restrictions.
Emma McClarkin, BBPA chief executive, said:
"After a long wait, the pubs we love should be restriction free from July 19th.
"Only when the restrictions are removed can our pubs recover, but to do so they need Government investment to build back better.
"We are backing the Long Live The Local campaign which celebrates our pubs but will urge the government to invest in their recovery.
"We are calling for reform of VAT, beer duty and business rates on pubs and breweries which will help build stronger communities, jobs, investments and a thriving British beer and pub sector we can be proud of."
Pubs in England will be able to stay open longer on Sunday if the Euro 2020 final goes to extra time, then penalties.
The Prime Minister's official spokesman said:
"We are taking forward plans to allow pubs to open until 11.15pm on Sunday.
"The entire nation has been gripped by the Euros and this will ensure people can come together to enjoy the final in pubs, should they wish to do so."
England play Denmark in a semi-final at Wembley on Wednesday.
Prince William – President of the Football Association – will be attending the game.
However, Kate will not be with him.
She is isolating after coming into contact with someone suffering from COVID-19.