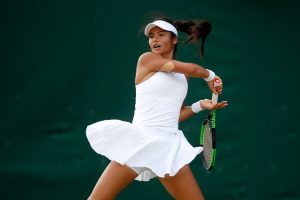 Teenage tennis sensation Emma Raducanu had to retire from her last 16 match at Wimbledon with breathing difficulties.
The 18-year-old's incredible run of wins ended with the sad sight of her leaving the Number 1 Court helped by medical staff.
She was three games down in the second set to Ajla Tomljanovic.
Ms Tomljanovic had taken the first set.
Ms Raducanu was holding her stomach and appeared to be breathing poorly before calling for help.
She received treatment on court and was then led off for further care.
Shortly afterwards the crowd was told she would not be returning.
Wimbledon officials said the player had "difficulty breathing".
Former Wimbledon winner John McEnroe – commenting for the BBC – said the match had been "too much" for someone so young.
He said: "It's a shame.
"I feel bad for Emma.
"It appears like it just got too much which is understandable.
"It makes you look at the guys and girls who have been around for so long and wonder how they handle it.
"Hopefully, she will learn from this experience.
'Maybe it's not a shame this has happened right now when she is 18.
"I played this tournament at 18 and in a way, I was happy I lost.
"I was able to understand what it would take to make it.
"Allow her to take some deep breaths and maybe get some wildcards."
Ms Tomljanovic will play fellow Australian Ashleigh Barty in the quarter-finals.