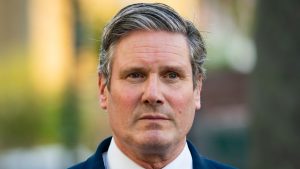 Sir Keir Starmer will not step down as Labour leader even if the party loses a key by-election.
It's said Sir Keir is determined to lead Labour in the next general election – and back into Government.
The defiant words come as Labour struggles to hold on to the Batley and Spen seat in West Yorkshire.
His spokesman said:
"Keir is not going to resign.
"What the British people are worried about at the moment is their jobs, their kids and the future of their country, and that is exactly what Keir is focused on.
"That's what he will spend the summer talking about.
"And he will take the Labour party through into the next general election and back into government."
Seven out of ten Labour members think Andy Burnham would be a better leader of the party than Sir Keir.
A YouGov poll for Sky News reveals 69% of Labour members would prefer the Manchester mayor to Sir Keir.
The high votes come despite Mr Burnham not being an MP – therefore excluding him from running for the leadership.
Four in ten members want Sir Keir to stand down if his party loses the crucial Batley and Spen by election.
Labour holds the seat by 3,525 votes – but it's a tenuous hold.
Mr Burnham admitted he would like to run for the leadership for a third time.
However, he insisted he would not stand "any time soon".
He told The New Statesman:
"I'm supporting Keir.
"I want him to win the next general election, and I will do whatever I can to help him achieve that."
Diane Abbott, a Jeremy Corbyn ally, has said a loss in Batley would be "curtains" for Sir Keir.