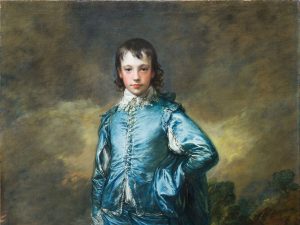 Thomas Gainsborough's painting The Blue Boy is returning to Britain a year to the day it was sold to an American in 1921.
The loss of the picture caused a national outpouring of anger and sadness.
The Blue Boy was described at the time as the "world's most beautiful picture".
It is returning to the National Gallery on a temporary loan.
The Duke of Westminster once owned the picture.
It was bought in 1921 by the American railway magnate Henry E Huntington – selling for a record price of £525,000, worth £26 million in today's money.
After the sale, The Blue Boy was put on display as part of a farewell tour.
More than 90,000 people came to view the picture.
The gallery director Charles Holmes wrote on the back of the canvas "au revoir".
Gabriele Finaldi, the director of the National Gallery, said the 2022 loan was "a unique opportunity for visitors to see Gainsborough at his dazzling best".
He called it "a painting of supreme poise and elegance … without doubt a masterpiece of British art".
Gainsborough painted the picture – called "A Portrait of a Young Gentleman" – in 1770.
However, the public quickly named it The Blue Boy.