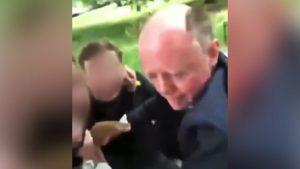 Prime Minister Boris Johnson has condemned the "thugs" who harassed Professor Chris Whitty in a London park.
A video posted online shows a clearly worried Prof Whitty trying to escape the clutches of two men.
He slips free only to be chased for demands for a picture.
There are now moves to give Prof Whitty police protection.
Mr Johnson said: "I'm shocked at seeing the despicable harassment of Chief Medical Officer Chris Whitty.
"I condemn the behaviour of these thugs.
"Our hard-working public servants should not have to face this kind of intimidation on our streets, and we will not tolerate it."
The Metropolitan Police said:
"We are aware of a video being shared online showing an incident in St James's Park.
"Officers spoke to all those involved at the time and their details were taken.
"We are in contact with the victim and the circumstances continue to be investigated."
Home Secretary Priti Patel said:
"I'm just horrified by that, I really am.
"Chris is just a remarkable public servant, a man who has been leading the whole coronavirus response – nationally, yes, he has a high profile.
"I think he's an incredibly respected figure.
"I'm horrified by what has happened to Chris and the police are actually involved as well and we're also speaking to Chris to look at what we can do to support him, it's just appalling.
"It's important that we make sure that Chris is given the right kind of support.
"It's terrible to see such an important public figure, someone that day in, day out, has been serving our country in the way in which he has to keep us safe, being subject to just appalling abuse."
Labour leader Sir Keir Starmer said:
"This is disgusting behaviour.
"Chris Whitty is a dedicated public servant who has worked tirelessly to help get us through this crisis.
"The police are right to investigate this harassment."
Nadhim Zahawi, the Vaccines Minister, tweeted: "This is disgusting, and these thugs must be found and charged. Zero tolerance for harassing a public servant."