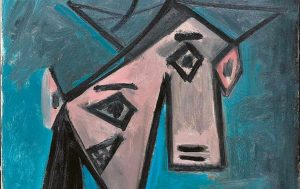 A Picasso picture stolen ten years ago has been recovered.
The "Woman's Head" – a 1939 cubist bust – was found in the countryside near Athens.
Police also found a painting by Piet Mondrian of a riverside watermill.
Both works of art were taken in 2012 from the Athens National Gallery.
The thieves set off the alarm so many time security guards turned off the system.
The robbers cut the paintings from their frames.
"Woman's head" was gifted to Greece by Picasso in 1949.
It was in "homage to the Greek people" – honouring their resistance against the Nazi occupation in World War Two.
A 49-year-old Greek man has been arrested in connection with the theft.