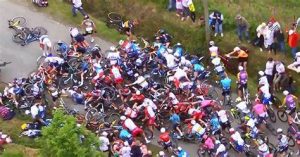 Stay home with opi & omi ! #TDF2021 #Bretagne pic.twitter.com/IddxtE4XOJ

— Francis Latré (@FrancisLatre) June 26, 2021
The French police are looking for a woman who triggered one of the worst cycle pile-ups in Tour de France history.
The spectator is seen holding up a large banner saying "Allez Opi-Omi" – "Go Grandma and Grandpa".
She is leaning into the road but not looking at the peloton as it races up behind her.
Dozens of cyclists in the opening stage of the 108th race are scattered into the crowd.
Many are cut and bruised as they slide across the road surface.
The woman disappeared into the crowd.
The tour operators ASO said they will press charges if and when she is found.
French prosecutors are investigating for "deliberately violating safety regulations and so causing injuries that might prevent someone working for up to three months".
The charge carries a sentence of up to a year in prison.
Pierre-Yves Thouault, ASO deputy race director, said:
"We are suing this woman who behaved so badly.
"We are doing this so that the tiny minority of people who do this don't spoil the show for everyone."
The Finistere gendarmerie said it was investigating the "manifestly deliberate violation of an obligation of safety or prudence".
A spokesman said:
"The spectator who caused this accident left the scene before the arrival of the investigators.
"Everything is being done to try to find her.
"She was wearing glasses and dressed in blue jeans, a red and white striped sweater, and a waxed yellow jacket."