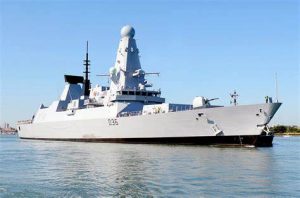 Library picture: HMS Defender
Secret documents containing details about Britain's defences have been found at a bus stop.
More than 50 pages of classified information was found by a member of the public.
The papers were in a "soggy heap" behind a bus stop in Kent.
A Ministry of Defence (MoD) employee had reported the loss of the key paperwork.
The MoD has started an investigation.
The papers were handed over to the BBC.
They are said to include details of Russia's reaction to HMS Defender's exercise through Ukrainian waters off the coast of Crimea last week.
Other documents outlined details of Britain having a military presence in Afghanistan.
An MoD spokesman said:
"The Ministry of Defence was informed last week of an incident in which sensitive defence papers were recovered by a member of the public.
"The department takes the security of information extremely seriously and an investigation has been launched.
"The employee concerned reported the loss at the time.
"It would be inappropriate to comment further."