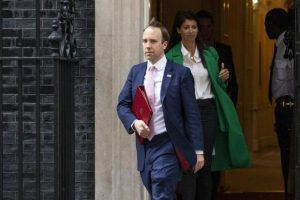 Matt Hancock and lover Gina Coladangelo
More than 80 Tory MPs complained to the party's whips' office that Matt Hancock had not walked after being caught out with his Westminster mistress.
The Health Secretary eventually stood down, admitting he had breached social distancing rules.
Mr Hancock, 42, had hung on for 48 torrid hours after The Sun published pictures and a video of him and his lover Gina Coladangelo, 43, in a passionate embrace.
The couple were caught on CCTV cameras in Mr Hancock's Whitehall office.
Mr Hancock said he had taken his time to resign "to think it through".
But The Telegraph reports the father-of-three had a frank telephone conversation with the Government's Chief Whip Mark Spencer.
Mr Spencer told the beleaguered Mr Hancock that 80 MPs – more than a quarter of the party's 363 Conservatives – had contacted him about the minister's failure to quit straightaway.
Mr Hancock called back just after 14.00 and said he'd decided to go.
There was a phone call between the Prime Minister Boris Johnson and Mr Hancock followed by a formal resignation letter four hours later.
One Government source said Mr Hancock's refusal to go had put colleagues in an awkward position trying to defend him to an increasingly angry public.
The source added: "In the real world people could not compute it."