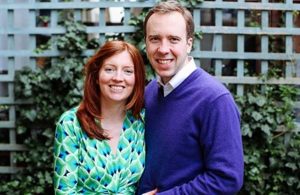 Source unknown: Matt Hancock and wife Martha.
Former Health Secretary Matt Hancock left his wife after he knew his affair with an aide was about to be revealed.
Mr Hancock and Gina Coladangelo were caught on CCTV kissing and cuddling at his Whitehall offices.
The video footage was given to The Sun newspaper.
When the newspaper contacted Mr Hancock, 42, he raced home to his wife of 15 years Martha and said he was leaving her.
A Conservative MP told the Daily Mirror:
"Everyone in Westminster is talking about it.
"Hancock's pathetic apology for breaching social distancing guidelines has gone down so badly.
"It's not the affair, it's the hypocrisy – the do as I say, not as I do."
Meanwhile, another Tory MP said:
"Although they've only known each other for a few weeks Matt and Gina are very much an item."