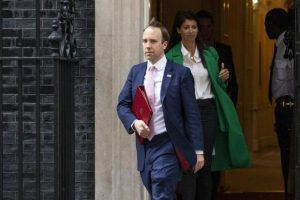 Beleaguered Health Secretary Matt Hancock could lose his job in a reshuffle after being caught on camera kissing and cuddling his "lover".
A change of cabinet might be brought forward to ease the Minister out of office.
More pressure is mounting on Mr Hancock, 42, after The Sun released a video of him and close aide
Gina Coladangelo.
Mr Hancock is seen checking the coast is clear before married Ms Coladangelo walks towards him.
The couple kiss as Mr Hancock has his hands "all over" her.
Labour claim the Minister's position is "hopelessly untenable".
Mr Hancock has apologised for "breaching" Covid-19 guidelines.
And Prime Minister Boris Johnson has said the "matter is closed".
But a growing strength of public anger against Mr Hancock could well decide his fate.
Britain has been in some form of lockdown for 15 months.
Mr Hancock was the vanguard of enforcing Government policy to not mix with loved ones, family, and friends.
A snap poll from Savanta ComRes, taken after the story broke, found 58% of UK adults thought that Mr Hancock should resign.
Only 25% thought he should not.
There are also questions about Ms Coladangelo's appointment to her role in the Department of Health and Social Care (DHSC)
She and the Minister were at Oxford together.
Some Conservative MPs are urging the PM to "pull the plug" on his hapless Minister.
The Daily Mail reports Mr Johnson was already planning a cabinet reshuffle.
That could now be brought forward "to allow Mr Hancock a dignified exit".
In his statement, Mr Hancock said:
"I accept that I breached the social distancing guidance in these circumstances, I have let people down and am very sorry.
"I remain focused on working to get the country out of this pandemic and would be grateful for privacy for my family on this personal matter."
The pictures and video of Mr Hancock and Ms Coladangelo have been mercilessly ridiculed on social media – adding further embarrassment to the Government.
One former Cabinet Minister said:
"The man is a laughing stock.
"This could have come at a worse time as we're trying to ease the country out of all lockdown measures.
"And we have a by election [Batley and Spen] coming up that we hope to win from Labour.
"That will be an interesting result".
https://twitter.com/i/status/1408528413938360326
Video: The Sun