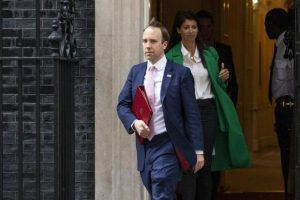 Health Secretary Matt Hancock has resigned after being caught kissing and fondling his Westminster "lover".
The married father of three has been under intense pressure to resign since pictures and video of him kissing Gina Coladangelo were shown in The Sun an online.
In his letter of resignation to Boris Johnson, Mr Hancock, 42, said the Government "owe it to people who have sacrificed so much in this pandemic to be honest when we have let them down".
He said: "The last thing I would want is for my private life to distract attention from the single-minded focus that is leading us out of this crisis.
"I want to reiterate my apology for breaking the guidance and apologise to my family and loved ones for putting them through this.
"I also need to be with my children at this time.
"It has been the honour of my life to serve in your Cabinet as Secretary of State and I am incredibly proud of what we have achieved."
The decision to quit came after several Conservative MPs urged him to stand down.
First to break rank was Duncan Baker.
Later, Tory MP Sir Christopher Chope said Mr Hancock's position had become "untenable".
The Sun published the CCTV video adding considerable embarrassment to an already beleaguered Mr Hancock.
He's shown checking the coast is clear before married Ms Coladangelo, 43, walks towards him.
The couple kiss as Mr Hancock has his hands "all over" her.
Labour claims the Minister's position is "hopelessly untenable".
Mr Hancock has apologised for "breaching" Covid-19 guidelines.
And Prime Minister Boris Johnson had declared said the "matter is closed".
But a growing strength of public anger against Mr Hancock would decide his fate.
Britain has been in some form of lockdown for 15 months.
Mr Hancock was the vanguard of enforcing Government policy not to mix with loved ones, family, and friends.
A snap poll from Savanta ComRes, taken after the story broke, found 58% of UK adults thought that Mr Hancock should resign.
Only 25% thought he should not.
There are also questions about Ms Coladangelo's appointment to her role in the Department of Health and Social Care (DHSC)
She and the Minister were at Oxford together.
Some Conservative MPs are urging the PM to "pull the plug" on his hapless Minister.
The Daily Mail reports Mr Johnson was already planning a cabinet reshuffle.
That could now be brought forward "to allow Mr Hancock a dignified exit".
In his statement, Mr Hancock said:
"I accept that I breached the social distancing guidance in these circumstances, I have let people down and am very sorry."
https://twitter.com/i/status/1408528413938360326
Video: The Sun
The resignation letter: