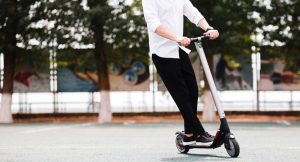 The police have removed more than 500 e-scooters from the streets of London in a week.
Officers confiscated 507 machines during "proactive patrols" across the city's boroughs.
The police are concerned about the vehicles not being insured.
Also, because the scooters have no rear red lights, number plates, or signalling ability, they cannot be legally used on roads.
Chief Supt Simon Ovens said:
"Riders using e-scooters on the road risk fines, points on their licence, and e-scooter seizures if they continue to use them on public road networks."