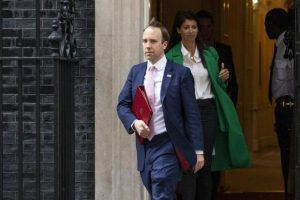 Library picture: Matt Hancock and Gina Coladangelo
Health Secretary Matt Hancock has said he is "very sorry" for breaching lockdown rules by cuddling his top aide.
Pictures of Mr Hancock warmly embracing Gina Coladangelo have led to speculation the couple are having an affair.
The Sun published a CCTV picture of Mr Hancock, 42, in the arms with Ms Colandangelo, 43, in the Department of Health.
Ms Colandangelo is married to multi-millionaire fashion tycoon Oliver Tress – founder of the High Street chain Oliver Bonas.
She works as a tax-funded adviser to Mr Hancock.
Mr Hancock said: "
"I accept that I breached the social distancing guidance in these circumstances.
"I have let people down and am very sorry.
"I remain focused on working to get the country out of this pandemic and would be grateful for privacy for my family on this personal matter."
Meanwhile, Prime Minister Boris Johnson has accepted the apology and "considers the matter closed".
It's said the PM keeps full confidence in Mr Hancock.
A Number 10 spokesman said:
"The Health Secretary and Prime Minister's focus remains on tackling the pandemic, as we move towards Step 4 in July. That work is ongoing and that will remain our priority."
As Health Secretary Mr Hancock has been at the forefront of the Government's response to the Covid-19 pandemic.
He has constantly told the public the importance of social distancing.
However, the Sun's picture calls into question his judgement.
He has also been criticised for appointing Ms Colandangelo to such a prominent position.
Labour Party Chair Anneliese Dodds said:
"If Matt Hancock has been secretly having a relationship with an adviser in his office – who he personally appointed to a taxpayer-funded role – it is a blatant abuse of power and a clear conflict of interest.
"The charge sheet against Matt Hancock includes wasting taxpayers' money, leaving care homes exposed and now being accused of breaking his own COVID rules."
The Rupert Murdoch-owned Sun tabloid said the picture of Mr Hancock, who is married, and the aide was taken last month.
The newspaper said Mr Hancock met the aide at Oxford University in the early 2000s.
She is listed on the health department's website as a non-executive director.