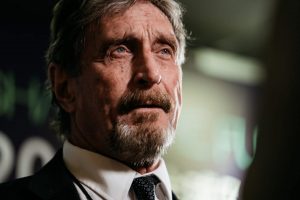 Anti-virus software mogul John McAfee has been found dead in a prison cell in Spain.
Hours earlier Spanish authorities confirmed they would extradite the runaway McAfee to America.
McAfee, 75, had been charged in the US with evading taxes.
He was accused of not declaring income earned from promoting crypto currencies.
It was also alleged the entrepreneur had not paid taxes on public speaking engagements and selling his life story to a film maker.
The Catalan justice department said "everything points" to McAfee taking his own life at the Brians 2 prison near Barcelona.
Prison staff tried to revive the prisoner.
He was arrested in October 2020 at Barcelona's international airport as he was about to board a flight to Istanbul, Turkey, with a British passport.
McAfee claimed the charges were politically motivated.
He feared he feared he would spend the rest of his life in prison if he was taken back to the US.
The technology wizard created the McAfee antivirus software.