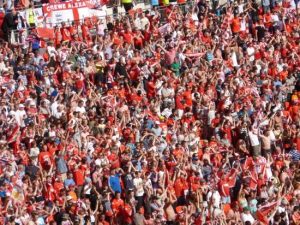 Library picture
More than 60,000 football fans can watch the final of Euro 2020 at Wembley.
The same number will be let in to see the semi-finals.
They will be the largest crowds at a British sporting event for more than 15 months since lockdown restrictions were put in place.
All ticket holders for the semis on July 6th and 7th and the final four days later must show a negative Covid-19 test or proof of full vaccinations 14 days before kick-off.
The Department for Digital, Culture, Media and Sport (DCMS) said other events in the sporting calendar – including Wimbledon, the Challenge Cup Final, and men's Test cricket – will go ahead with "greater capacity".
Allowing crowds to return is part of the Government's Events Research programme.
The DCMS said: "Up to 20 indoor and outdoor events are also being planned that will allow audience numbers to return close to full capacity."