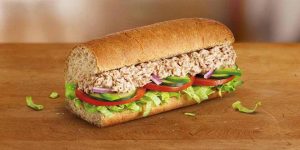 Library picture
A laboratory test did not find any tuna DNA in a Subway sandwich.
The tests to find one of five common tuna species were carried out on 60 inches of the chain's tuna mayonnaise sandwich.
After the PCR tests commissioned by the New York Times the report said:
"No amplifiable tuna DNA was present in the sample and so we obtained no amplification products from the DNA.
"Therefore, we cannot identify the species."
The scientists came to two conclusions:
"One, it [the filling] is so heavily processed that whatever we could pull out, we couldn't make an identification.
"Or we got some and there's just nothing there that's tuna."
Subway has been challenged before on its tuna content.
A class action lawsuit in California claims the sandwiches are "completely bereft of tuna as an ingredient".
Subway said: "There simply is no truth to the allegations in the complaint that was filed in California.
"Subway delivers 100 per cent cooked tuna to its restaurants, which is mixed with mayonnaise and used in freshly made sandwiches, wraps and salads that are served to and enjoyed by our guests."