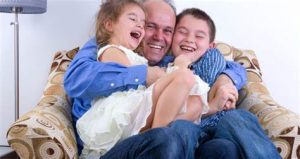 Library picture
The world's best "dad joke" has been revealed – and it'll make you cringe.
More than 2,700 "gag-dads" sent in their best– or possibly worst joke to celebrate Fathers' Day as they battled it out to win the Aldi Mamia Best Dad Joke competition.
Stand-up comedian Mark Watson judged the competition.
He picked father-of-two Austin May from Bedworth, Warwickshire, as the overall winner.
The winning joke was:
"I once hired a limo but when it arrived, the guy driving it walked off!
I said: "Excuse me? Are you not going to drive me?"
The guy told me that the price did not include a driver…
… so, I'd spent £400 on a limo and have nothing to chauffeur it!
Other contenders were:
I got a nasty bump on my head. I'd dodged these, ducked under those – but never saw that coming.
Lollipop ladies – don't they make you cross!
Someone has glued my pack of cards together – I don't know how to deal with it.
Why did the scarecrow get an award? Because he was out standing in his field!
Judge Watson said: "The perfect dad joke has got to be equal parts cringe and cheese – it's got to make your kids embarrassed to be in the same room as you but still make them laugh.
"It's a fine balance!
"When judging this competition, I was keeping an eye out for those jokes that were so bad, they were actually good.
"You don't have to be a dad to tell a dad joke, but I think telling some truly awful ones really is a rite of passage when becoming a dad."