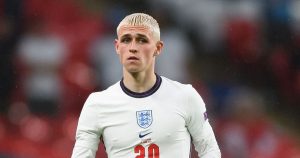 Phil Foden
 The England squad will dye their hair blond if they win Euro 2020.
Phil Foden has already taken the plunge as an homage to former player Paul Gascoigne.
Now, he's convinced his teammates to do the same if they go all the way.
England reached the semi-finals in 1996 thanks to one of the competition's greatest ever goals scored by the mercurial Gazza.
Meanwhile, England manager Gareth Southgate has told his team to focus on positives following the dour goalless draw with Scotland.
He told of earlier Euro winners who did not make a perfect start.
Portugal won in 2016 after drawing their first three games.
Holland won in 1988 after losing their first game.
And Denmark lifted the trophy in 1992 despite only taking one point in the first two games.
England need to win on Tuesday to finish top of Group D.