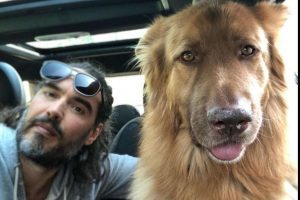 Picture: Russell Brand Instagram
A German Shepherd owned by celebrity Russell Brand has mauled a wallaby to death.
The dog – called Bear – attacked a female wallaby whilst out walking in Henley-on-Thames.
Comic Brand, 46, noticed the wallaby had a baby joey in its pouch and tried to save both, reports The Sun.
He managed to protect the joey, but the mother died.
Locals said Mr Brand was "distressed and horrified" at what happened.
One said: "Absolutely no one is ­blaming Russell or his dog – it's just a horrible accident.
"In fact, Russell was the hero because he managed to save the little joey and it could have been far worse if he hadn't stepped in so quickly.
"He is a very caring man with animals — he has plenty of pets and they're all his babies.
"I understand he's devastated over what happened.
"It's really sad."
Henly-on-Thames in Oxfordshire has a small population of wallabies after they escaped from a private collection more than 20 years ago.
However, Beale Park, a wildlife attraction about 10 miles away in Berkshire, also keeps wallabies.
Locals believe it may have come from there.