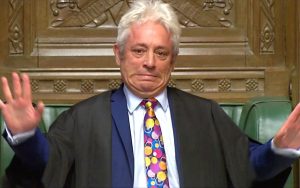 Controversial former Commons Speaker John Bercow has been accused of switching to Labour to secure a peerage.
Prime Minister Boris Johnson denied Mr Bercow the honour after he retired.
Many Conservatives believe Mr Bercow had been "difficult and obdurate" during the Remain-Leave battles in Parliament.
Mr Bercow said there was "no barter, no trade, no deal whatsoever" after switching sides.
He told Sky's Trevor Phillips On Sunday:
"I've had absolutely no discussion whatsoever, either with Keir Starmer or any other member of the Labour leadership about that matter.
"There has been no barter, no trade, no deal whatsoever.
"And if I may very politely say so, and I do, the people who make what they think is that potent and coruscating criticism of me are operating according to their own rather low standards."
However, Tory MP Andrew Bridgen was quick to accuse Mr Bercow of being "cynical and cunning" to try to land a seat in the Lords.