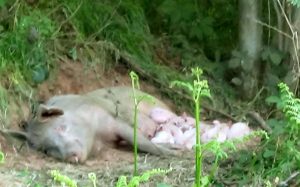 Picture: Brinsley Animal Rescue
Runaway sow Matilda and her ten new born little piggies have had their bacon saved.
Heavily pregnant Matilda had escaped from a pig farm in Ollerton, Nottinghamshire, by burrowing underneath an electric fence around her pen.
Like many on the run before her she fled to nearby Sherwood Forest for sanctuary.
And deep in the undergrowth she delivered her ten piglets.
Dog walker Anna Aston later found mum and babies.
An animal charity stepped in to rescue the litter, but the pig farm owner gathered them up and took them back.
Now, after a public protest and a 5,000 strong petition, the pig breeder has handed Matilda and the piglets to the Brinsley Animal Centre.
Mrs Aston said:
"It's such good news, it has made my day.
"I couldn't stand the thought of them going back to wherever it was, and we all have a good idea of what would have happened to them.
"We can't save all the pigs, but I just felt that she had earned her freedom.
"Matilda had the instinct – she needed to have the piglets somewhere safe and went and did that."
Jon Beresford, founder of Brinsley Animal Rescue, said:
"Matilda's maternal instinct has driven her to escape from a commercial farm.
"Pigs are incredibly intelligent creatures and they have a huge maternal drive."
Brinsley Animal Rescue has since found a permanent home for Matilda and family at Surge, another animal rescue sanctuary in the Midlands.
The pregnant sow had escaped from nearby Haughton Warren Farm.
A ring through her nose prevented her from foraging effectively.
Volunteers fed her cereals, fruit, and vegetables as she weaned her piglets.
However, the family was taken away by the breeder – sparking an online protest.
Under the campaign banner "Save the Ollerton 11" people threatened to demonstrate outside the farm.