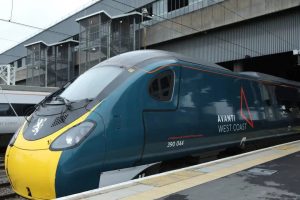 Picture: Avanti West Coast
An attempt to break a 36-year-old record for the fastest train journey between London and Glasgow failed by an agonising 21 seconds.
The Royal Scot train – run by Avanti on the West Coast line – arrived at Glasgow three hours, 53 minutes and one second after leaving Euston station.
A speed limit on the track in South Lanarkshire has added 90 seconds to the journey.
The lost time couldn't be  made up.
Railway expert Mark Smith, who was on the journey, said:
"It was a known risk, but they thought we could still do it.
"But it's still the fastest train I've ever taken from London to Scotland."
The Royal Scot – a Pendolino – had nine carriages.
It covered the 401 miles at an average speed of 103 mph.
The maximum speed on Britain's railway system is 125 mph.
The record was set by a British Rail prototype Advanced Passenger Train in December 1984.
Phil Whittingham, managing director of Avanti West Coast, said:
"While we're disappointed we've not broken the record today, we are proud to have worked with industry partners to showcase the vital role rail can play in enabling cleaner, greener travel and connectivity across the United Kingdom."
Avanti West Coast worked with the Government-owned Network Rail to plan the Royal Scot's attempt around passenger and freight services on the West Coast Main Line.