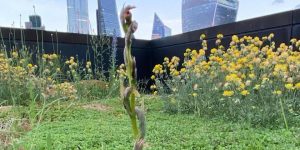 A rare species of orchid thought long lost in Britain has been discovered on an office roof in the heart of London.
Serapis parviflora – the small-flowered tongue orchid – was found on the 11th-floor rooftop garden of the Japanese investment bank Nomura.
The orchid's habitat is in the Mediterranean and the Atlantic coast of France, Spain, and Portugal.
It is only the second time the flower has been spotted in Britain.
An earlier group was found in Cornwall in 1989.
But poor land management lead to it dying out in 2009.
The 15-plant group in London is believed to be the only one in the UK.
The plants grow to about 30cm tall and usually have three to 12 small orange flowers.
Mark Patterson, who manages the Nomura garden, discovered the latest orchids during a monthly survey.
He said: "Orchid seeds are incredibly small and can travel great distances by wind.
"The plants could have originated on the continent and been brought over the Channel on southerly winds which frequently bring Saharan dust deposits to the capital.
"Once settled on the Nomura roof the seeds would have formed a symbiosis with a mycorrhizal fungus enabling them to germinate and grow.
"While possible, the odds are astronomical."
Mark Waller, an ecologist and author of Britain's Orchids, said:
"To find Britain's second colony of small-flowered tongue orchids is exciting, but to find them on a green roof in the City of London is extraordinary.
"This is clear evidence that with patience and dedication, even the most unlikely places can become havens for some of our rarest wildlife."