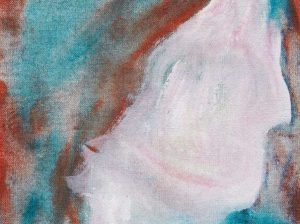 A £2.50 picture picked up in a charity shop is an original work by singer Davie Bowie.
The work is expected to fetch more than £8500 at auction.
Some paintings by the late star have fetched as much as £21,000.
The picture for sale is part of a series of muses between 1994 and 1997.
The computer and acrylic collage is called "D Head XLVI.
It's not known who the subject is.
The picture was bought at a charity shop in Ontario, Canada.
The buyer wishes to remain anonymous.
Auctioneer Rob Cowley said:
"There's a label on the back and it quite clearly identifies the work, so she of course wondered if it could be authentic.
"It's always exciting when a work like this, by a recognized artist, is found in such a place."
Further provenance came from Bowie expert Andy Peters.
He agreed the picture was by star.
Andrea McLoughlin, spokeswoman for Cowley Abbot auctions, said:
"His sitters ranged from band members, friends, and acquaintances.
"There were also some self-portraits.
"It has been suggested that, for some of these important paintings, Bowie drew inspiration from the Ziggy Stardust era.
"With long hair and a pronounced profile, this energetic and enigmatic portrait is truly a rare representation from a celebrated artist."