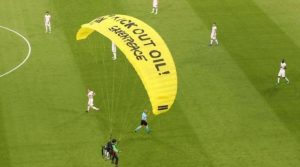 Greenpeace has said sorry after two football supporters were injured during a parachute protest about Euro 2020 sponsor.
Both injured people have head injuries as the stunt – described as "reckless and dangerous" – went terribly wrong.
Plastic and metal debris scattered across the pitch moments before the start of France against Germany.
The parachutist clattered into the overhead camera cables that criss-cross the stadium in Munich.
French manager Didier Deschamps rushed for cover as the skydiver narrowly missed landing on the team dugout.
Fans in the front rows also ducked as the out-of-control glider whizzed by.
The skydiver landed in a heap and the pitch and was helped to his feet by Germany's Antonio Rudiger.
Security officials escorted him off the pitch for medical attention.
The German newspaper Bild reported that at least two people were taken to hospital – one suffering facial fractures.
A Munich police spokesman said:
"We are considering various criminal charges.
"Munich police zero tolerance for political actions that put lives at risk."
Greenpeace said the plan was to fly over the stadium and drop a soft ball onto the pitch.
It was a protest against German car maker Volkswagen – a Euro 2020 sponsor.
A Greenpeace statement said: "We sincerely apologise to the two people injured and to fans and players alike.
"This protest was never intended to disrupt the game or hurt people.
"We hope that everyone is OK and that no one was seriously injured.
"Greenpeace actions are always peaceful and non-violent. Unfortunately, not everything went according to plan."
"Technical difficulties forced the pilot to an emergency landing in the stadium."
UEFA said the incident was "reckless and dangerous" and insisted that "law authorities will take the necessary action."
It added: "This inconsiderate act … caused injuries to several people attending the game who are now in hospital."
VW said: "Greenpeace put the life and limb of bystanders and fans of a football game at risk. That is not acceptable."