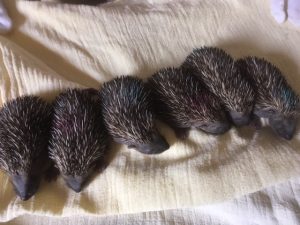 Six new born hedgehogs have been found abandoned in a public park by two gardeners.
There was no sign of the hoglets' mother.
The baby hedgehogs are now being cared for by a charity.
They are being hand-fed night and day by a dedicated carer.
The hoglets were found in Dysart Park, Grantham, Lincolnshire.
All six were gathered up and taken to Hedgehog Welfare.
Janet Peto, from the organisation, said:
"They are no more than 10 days old, and their eyes are not yet open.
"After being found by Ross and Paddy they were brought to us by Wendy Dwyer of Grantham."
Janet added: "Caring for six is far too much for anyone person, especially when you have already had two weeks of disturbed sleep and they are all really slow feeders, but they are super cute."
The hoglets have been named after trees: Pine, Monkey Puzzle, Magnolia, Spruce, Poplar, and Spindle.
Main carer Sally Key is nursing the hoglets through the early stages.
The six will then be split into groups of two for other volunteers to help.
Sally said: "It is unusual to have six hoglets at the same time.
"Hopefully, we can manage to save them all and bring them on before releasing them back into the wild."
Janet has been looking after hedgehogs for over 40 years. She founded Hedgehog Welfare in 1993
.