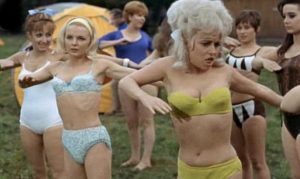 A bikini worn by Dame Barbara Windsor in the 1969 film Carry on Camping has been sold for £9,500.
The proceeds will go to the Alzheimer's Society.
Dame Barbara died last December aged 83 after being diagnosed with the illness.
The barely fitting chartreuse cotton towelling bikini became one of the British film's industry's most memorable moments.
Ms Windsor is taking part in a strenuous exercise class with the two piece already at "stretching point".
Instructor Kenneth Williams shouts: "Now let's really see those chests come out! Now fling!"
On cue, the top half of the bikini flies off as the actress tries vainly to cover her modesty.
The image was included in her funeral service with Dame Barbara's quote:
"That picture will follow me to the end."
Auctioneer Kerry Taylor said:
"We have had so much interest in this bikini, from devoted fans of the Carry On films to people who simply love Barbara Windsor.
"During her long career, she was renowned for her down-to-earth nature, great sense of humour and superb acting ability.
"She was a true professional.
"It seems very apt that a bikini that caused her so much embarrassment during the filming will now go to such a good cause, as Barbara herself sadly suffered from this disease."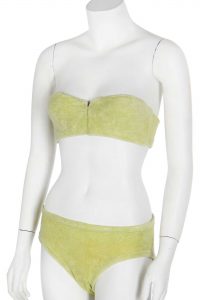 Dame Barbara's husband Scott Mitchell said:
"It's a touching tribute to Barbara to think any item associated with that famous scene will help people living with Alzheimer's.
"I'd say it was fitting… but it flew off… so it wasn't!"
Kate Lee, chief executive of Alzheimer's Society, said:
"Dame Barbara Windsor inspired so many when she spoke out about her dementia diagnosis, and we are so incredibly grateful to have had her and her husband Scott's unwavering support – what they achieved for people with dementia has been truly awe-inspiring.
"This bikini is an iconic item from an iconic lady."