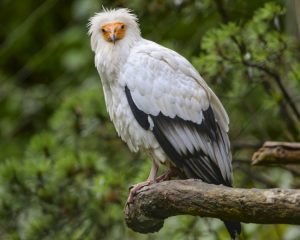 Library picture
An Egyptian vulture has been spotted on the Isles of Scilly after more than 150 years.
It's only the third time the bird has been seen in Britain since its first sighting in 1825 in Somerset.
It was last viewed in Essex in 1868.
Birdwatchers have flocked to the islands off the Cornish coast for a glimpse of such an unusual visitor.
Rare Bird Alert UK – which sends news of any unique sighting to its 68,000 followers – called it a "Mega Alert".
A chance to see the "bird of the century".
The Egyptian vulture is believed to have been blown off course by recent unseasonal weather patterns coming from the south.
It's thought it might have flown from Spain.
One bird-watcher said: "This is the biggest sighting of the century in some respects as the last one was in Essex in 1868 and the only other one in 1825.
"Both were shot!
"To see it this far off course now is something that will get birdwatchers flocking to Cornwall if they can avoid the G7 security."
The Egyptian vulture is known to use tools – usually a pebble as a hammer – to break into other birds' eggs.
It also eats carrion, rodents, and reptiles.