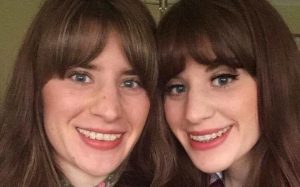 Melissa (left) and twin Georgia. Facebook
A British woman is in an induced coma after being rescued by her twin sister from a crocodile attack in Mexico.
Melissa and Georgia Laurie, 28, were swimming at night in a lagoon when the crocodile struck.
Melissa, a zookeeper was dragged under the water.
Her mother Sue said:
"She has water on her lungs, and she has been coughing up blood.
"So, we don't know if she has a punctured lung or not."
Both girls have bite severe wounds.
Her father Sean said Melissa had been underwater for several minutes.
As her sister was bringing her back to the boat the crocodile struck again.
Mr Laurie said:
"Georgia had to fight it off.
"She kept punching it in the head.
"She suffered lacerations, bite wounds too.
"It was only because she is a diver and has life-saving experience that she was able to save her."
The twins left Britain in March to back-pack around the world.
Mr and Mrs Laurie, from Berkshire, are deciding whether to travel to Mexico to return the girls home.