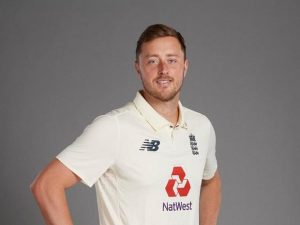 Prime Minister Boris Johnson has backed a minister's comments that suspending cricketer Ollie Robinson over historical tweets was "over the top".
Culture Secretary Oliver Dowden has asked the England and Wales Cricket Board (ECB) to "think again" on its decision.
Fast bowler Robinson, 27, has been dropped from the England team for the racist and sexist comments he made as a teenager.
Mr Dowden said the tweets were "offensive and wrong" but "also a decade old and written by a teenager".
A spokesperson for Mr Johnson said:
"The PM is supportive of Oliver Dowden's comments.
"As Dowden set out, these were comments made more than a decade ago written by someone as a teenager and for which they've rightly apologised."
The ECB will not be making any comment about Dowden's remarks.
Robinson made his England debut in the first Test against New Zealand at Lord's.
He took seven wickets and scored a valuable 42 runs.
However, since the comments have come to light, he's been dropped from the second Test while the ECB holds an inquiry.