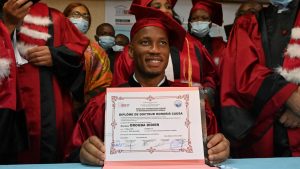 Chelsea legend Didier Drogba has been awarded an honorary university degree for his charity work.
Drogba not only led his country Ivory Coast to three World Cups, but he played a pivotal role in stopping a war.
When Ivory Coast beat Sudan to qualify for the 2006 World Cup he gave a dressing speech to a television camera imploring his people to end the conflict.
His words led to a ceasefire and years of peace.
Drogba, 43, is Chelsea's fourth highest scoring player of all-time.
He found the net 164 times in 381 games.
In 2007, he was appointed a Goodwill Ambassador for the United Nations Development Programme and in 2009, he donated £3m of his endorsement with Pepsi for a hospital to be built in his hometown of Abidjan.
UEFA president Aleksander Ceferin called the former striker "a pioneer" as he received the 2020 UEFA President's Award.
Ceferin said Drogba "blazed a trail for African footballers and gave inspiration to a whole new generation to look to follow in their footsteps."
Drogba's degree was presented by the Network of Universities of Science and Technology of the Countries of Africa south of the Sahara.