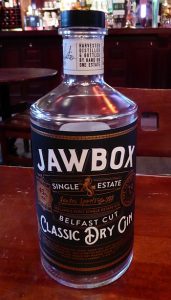 It's large ones all round as a distiller has produced the world's largest bottle of gin.
Jawbox Gin in Northern Ireland has announced its two feet four inches tall bottle.
It holds 32 litres of 47% ABV gin.
The Jawbox Giant – the name comes from Swift's book Gulliver's Travels – is equivalent to 46 standard bottles.
The one-off bottle can be found in the cocktail bar of the 23 storey, five star The Grand Central Hotel in the old Linen Quarter of Belfast.
Gerry White, of Jawbox, said:
"Our brand is inspired by the magnificent industrial era when ordinary men and women put Belfast on the map for hard graft and craft.
"Jawbox Export Strength is a modern expression of this uncompromising character, a character that will once again bring the hospitality industry back to the giant it was pre-lockdown.
"We really wanted to create some theatre around the bottle and this huge edition with a sleek matt black finish and gold foil accented label certainly does that."